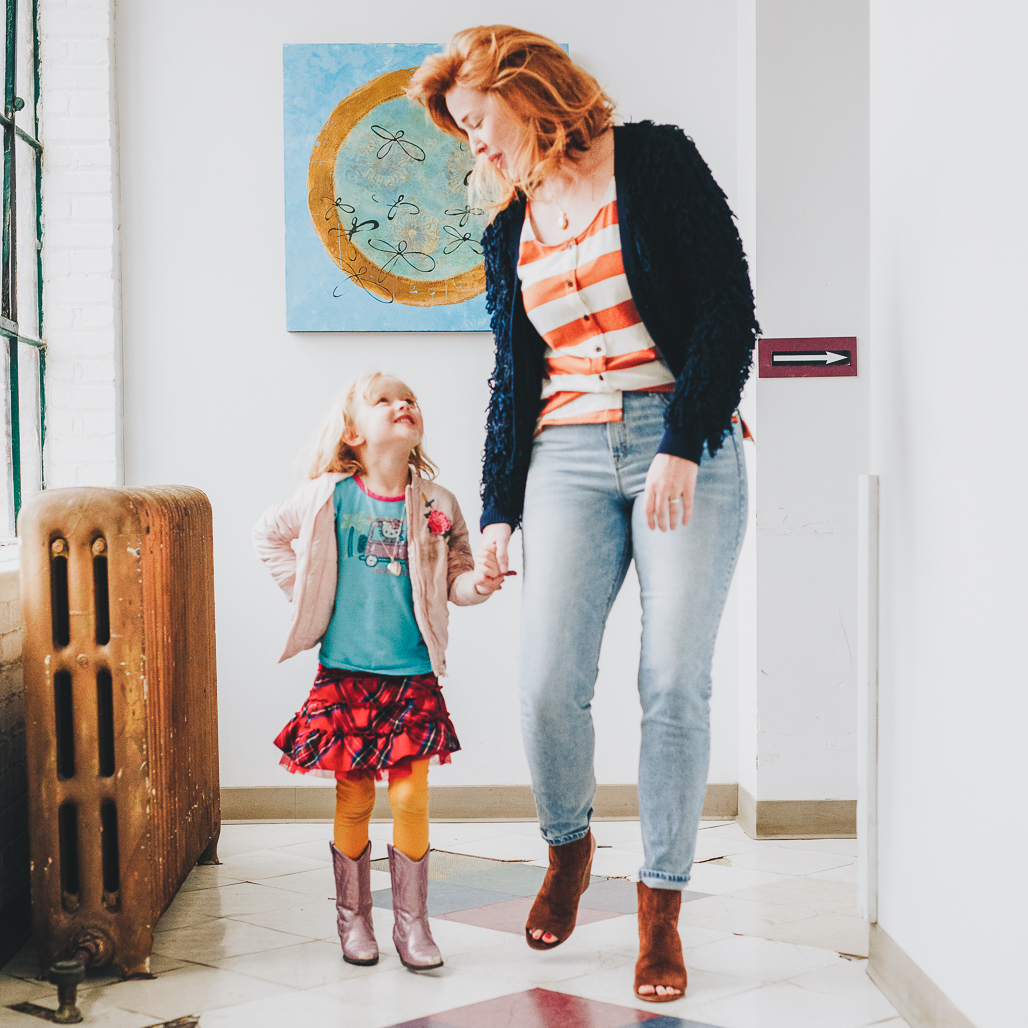 The direction that we're all headed together isn't completely clear to me, and I'm not sure exactly which path we're on or how to ensure we're headed in the right direction, and this existential confusion about the state of - everything - can put me into a mental stalemate that stalls any and all progress at all. Not the progress that means I've checked things off a to do list or put laundry away or followed up on an email, but the kind that means we're not, as a larger mass of humanity, headed in the wrong direction. It's unclear which way to go next, but the mantra I know how to begin popped firmly into my mind in the middle of one of my favorite yoga classes ever that I was taking in my basement on a computer and it came at me loudly. I know how to begin.
I often find myself spending so much time digesting my thoughts, considering how to calculate everything that must be reconciled, not just as woman and a mother and a business owner and a wife, friend, daughter, neighbor - but as a human. I've felt the shifts of the last year as deeply as you have. I've felt the changing tides of humanity, for better or for worse, or perhaps more accurately, for better and worse, just as you have. I've felt grief for what's lost, for who is lost, for who had to go somewhere different, another realm, another job, another relationship or mindset, and for those who seem to have gone no where at all despite everything around them changing.
Will they re-emerge into this new, different world as a square peg in a round hole? Will they still fit if they've shifted not even in the least bit?
A week ago I went back to in-person yoga for the first time in a year. My husband and I hosted a "pod" of elementary students in our home for five months and so with respect to the families our children were webbed into we were fairly limited in our "bonus" interactions with life. We kept our contacts pretty limited.
That pod has shifted, and as with the entirety of the last 12 months, we're not allowed to re-evaluate again how to interact with our lives.
When the pandemic hit last March I'd been going to hot power yoga five times a week. I'd just finished a 40 Days to Personal Revolution program at UpYoga and could feel a big leap coming. I didn't know that it would be both my sister leaving The Locket Sisters and the pandemic uprooting everything, but I could sense it coming.
It came, and it rushed in fast and furious and far greater than I could have ever imagined. The rug was slipped out from underneath me and every time I found my footing on a new rug that one would be tugged, too. Slip, tug, rip, yank, surprise. A constant jerking motion of keeping my feet on the ground and not succumbing to the dark valleys underneath that were so loudly calling my name. And it was only just beginning.
In May of last year George Floyd was murdered by the cops in my neighborhood, with my tax dollars. Shortly after an uprising of righteous outrage for the mistreatment of Black and brown bodies my the 3rd precinct of Minneapolis' police unit slammed into our neighborhood, too, with unrighteous demolition of the community. I respect the rage, yet I'm sad to see so much wiped out. We still detour around closed intersections and burned down buildings.
And George Floyd is still dead, so I honor him with every reroute to a grocery store that didn't get burned down, with every window I see still boarded up, with the long route around George Floyd Memorial where his life was snuffed out. He didn't have to die. Shouldn't have been murdered.
A couple months after the Blackhawk helicopters went away and the FBI stopped raiding our street at 2am, we learned our kids' school wouldn't be opening, then a couple months after that my husband's business experienced a major and unexpected shift that required a scramble to survive, we got COVID in November alongside the surge of the rest of Minnesotans who got COVID.
Yet we're still standing. And peaceful, and alive and well and we added a puppy and the sun still shines and the snow still fell and it didn't take us out. None of it.
So I returned to yoga last week for the first time in a year and when rolled out my mat six feet away from the next person and began breathing in the warm air under my mask, I felt overwhelmingly different. I am not the same woman I was when I used to go to hot power yoga five times a week last year. I sat on my mat differently. I paid attention to the other students differently. I listened to the teacher differently. It felt like butter on warm toast, sinking so perfectly into one. It felt like a hot tub after a ski day; a nap on the couch with a PBS documentary playing in the background. It felt so fucking good to be there. It felt so fucking good to reconnect with my life, the one that used to feed me and love me and nourish me.
In all the changes that rushed in over the last 12 months I learned new ways to nourish myself. I learned that I know how to adapt to the changes and that it's my decision if I'm going to let them take me down or out. I learned that I can be outraged and loving. I can work so hard and rest. I can learn and unlearn. I can shift and find stability. I can let go, I can rise up, I can fall down, and I will get up each time ready to continue on.
This is life. This is what it's made up of, our reactions to everything that we will experience and have thrown our way, it sums up the life we lived. Maybe you've already begun to re-emerge with yourself, your community, your life. Maybe you're not there yet. When the time comes, I wonder how you'll feel - will you be new? Will you be the same? Will any of it fit anymore?
We may not often know where we're headed, or what to do next, or where it's all gonna lead. But we do indeed know how to begin. I've learned how to begin again, and again, and again.
Warmly,
Allyssa