We've done a few TV appearances locally here in Minneapolis, but this May 2022 we were able to open our studio up to Kelli Hanson, a reporter from Twin Cities Live and Minnesota Live shows for her "Good Company" segment. What a good reason to buy a new terracotta-colored couch! And office chairs! And replant the plants in here!
We talk a lot about our studio, or "the studio" as we dub it as though it's the only studio in the world that exists, with her massive south-facing windows in this northern northern city. Practically floor-to-ceiling light, greenery and foliage draping our second-story windows, open space, negative space, positive energy, three different coffee makers for just the two of us who work for The Locket Sisters plus my husband's company who offices here too because it's big and beautiful and welcoming and why not? After all, we make the rules.
So anyway, Kelli came to visit. It was lovely. She's a reporter with ABC's Twin Cities Live and her "Good Company" segment airs every Tuesday with a new company featured each week. She goes deep with each small business, gets into the gritty, she made it feel like a conversation that they def weren't going to use in the final cut, but they did, and we love it.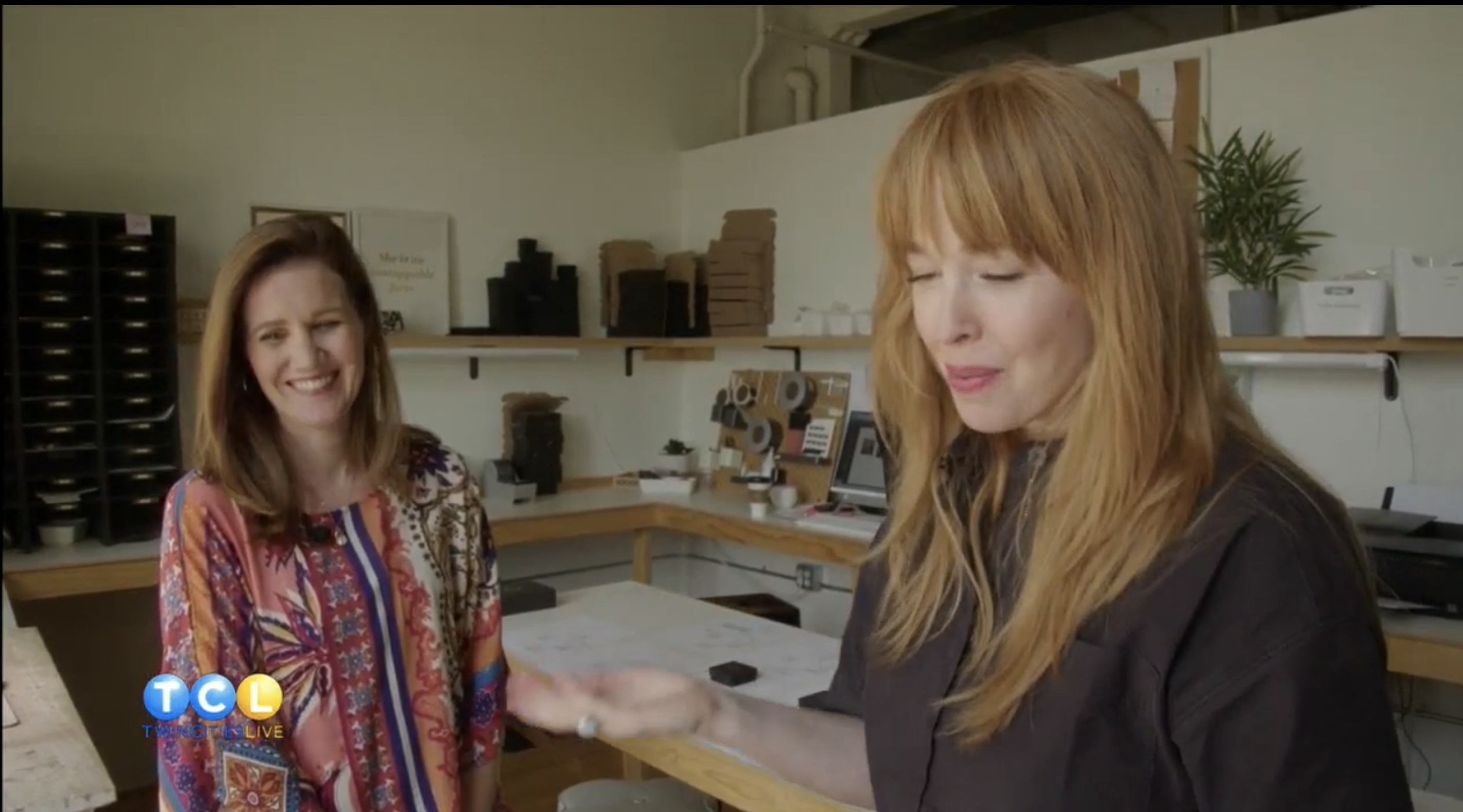 The morning that Kelli came to our studio was the same morning that the Uvalde shooting killed 19 children and two teachers. We didn't know that it was happening. We had this beautiful morning together touching on how these little pieces of jewelry honor so many lives, so many connections, we shared about Sophie and the lockets we made for her Mom. We gave Kelli a locket as a gift so she could experience what it's like to receive it. And when she left, likely at the same time, we all got the news when we checked our phones for missed calls after being enthralled in conversation only to find out that 21 innocent, perfect, beautiful lives were taken, and for what?
Hand on my heart.
Whenever I see this segment, or think of it, I'll always remember the confusing duality of how beauty and devastation co-exist in this world, all on the same paradigm, at the same time, thousands of miles apart, a community was wrecked and their lives were ripped apart, while our work here in another community, in the NE Mpls Art District, was being celebrated.
During our conversation, one thing that didn't make the final cut was sharing with Kelli how oddly healing the lockets we make tend to be for our customers. At least that's what they tell us. And then I shared that I've had two energy workers tell me that for some lockets, some of those made for people grieving the death of someone they love so much, the departed's soul travels with the locket and back to the person who ordered it. Like there's some kind of soul highway in this space.
And when I think about how divine this work feels everyday, I become wide open to the possibility that it's not just us choosing this work, but we're being guided.
Whatever it is that brings us to you, we're glad you're here, and I hope you like the segment.
Warmly,
Alllyssa