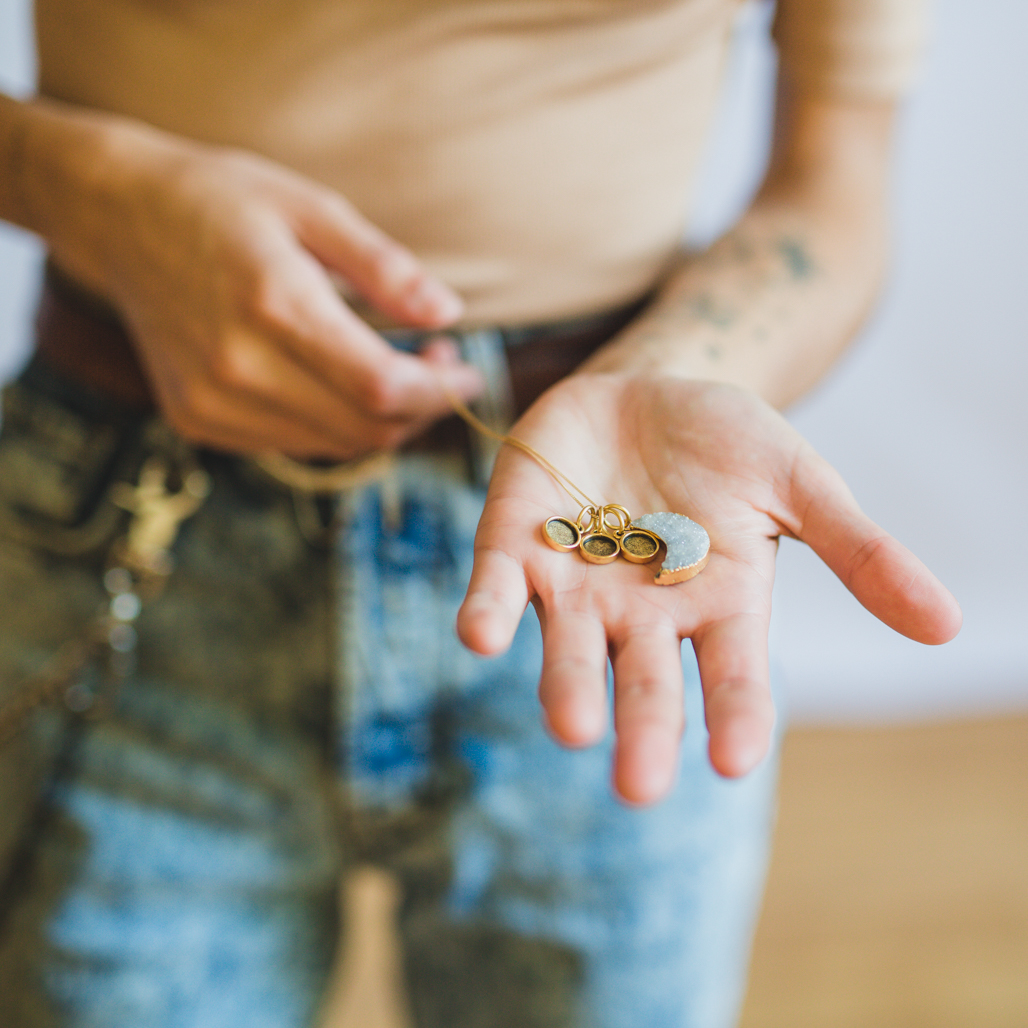 I know you know that I know how much y'all loved The Moon Charm Locket when it was here and it was flying out the studio. And I love how much you love this design, because I love it too. So does Mandy. We only share the designs that we love, that we personally want to wear, that we play with and wear and decide it's too good to keep a secret. The Moon Charm Locket is one of those designs.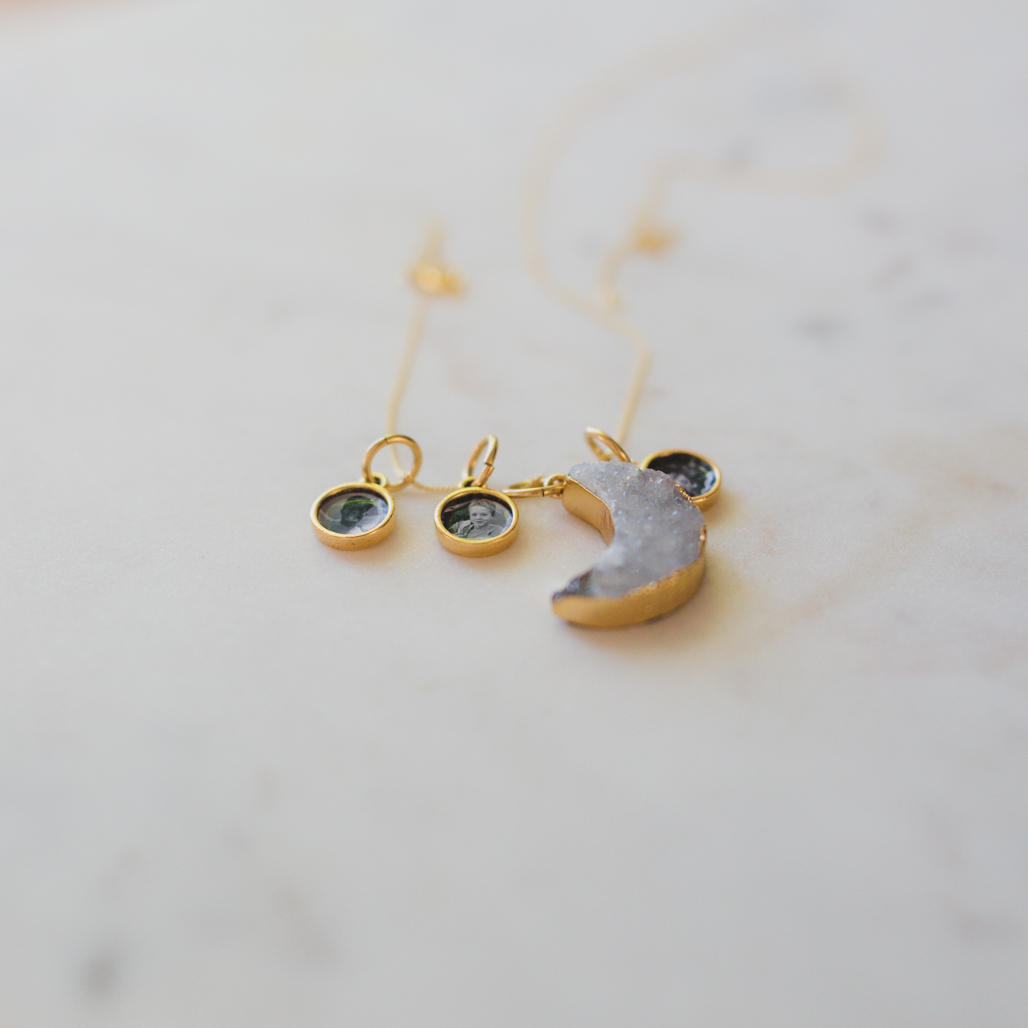 I'm 38 years old, and I was well into my 30s when I took the time to reflect on the moon and her relationship to the earth, to the big ol' rock atop which we float through the universe. I went through a phase of studying everything I could about the larger planetary system, watching PBS documentaries and reading books and also, just on a basic every day level, connecting deeper into nature and it's beautiful, clear vibration, undistracted by alarm clocks and zoom meetings and school pickup/drop-off schedules. Nature just exists.
Each time that I went to the ocean I'd ask people to explain to me AGAIN how the moon effects the tides? Whaaaat? I didn't get it. I'd ask each time, and I just couldn't understand it until I connected it's relationship, and ours, to the larger universe.
I took a design course that had a Human Design consultant in the first session discussed with each student our chart properties (if you're new to Human Design, like I am, imagine this as the intersection of like the enneagram and astrology). I learned that based on the location of my birth, and exact time, I am a reflector, which is less than 1% of the population. And in particular, waiting a moon cycle for my decisions to land with clarity for myself is a smart way of navigating the world.
I read Cosmic Health by Jennifer Racioppi, which invited me to pay attention to how I feel with the waxing and waning lunar cycles. All of these concepts that so many folks are tuned into, suddenly became like a magnet to my mind. I wanted to learn more and more. And so I still am.
Along this journey, this new locket design - a black druzy crescent moon dipped in 24k gold with 24k gold-plated picture locket pendants by it's side - came to fruition. I like that it's lovely, and that our admiration for it can begin and end right there. Or, if you have an affinity for the mystical, or the astrological, or the lunar, as I do, it can symbolize much more for you.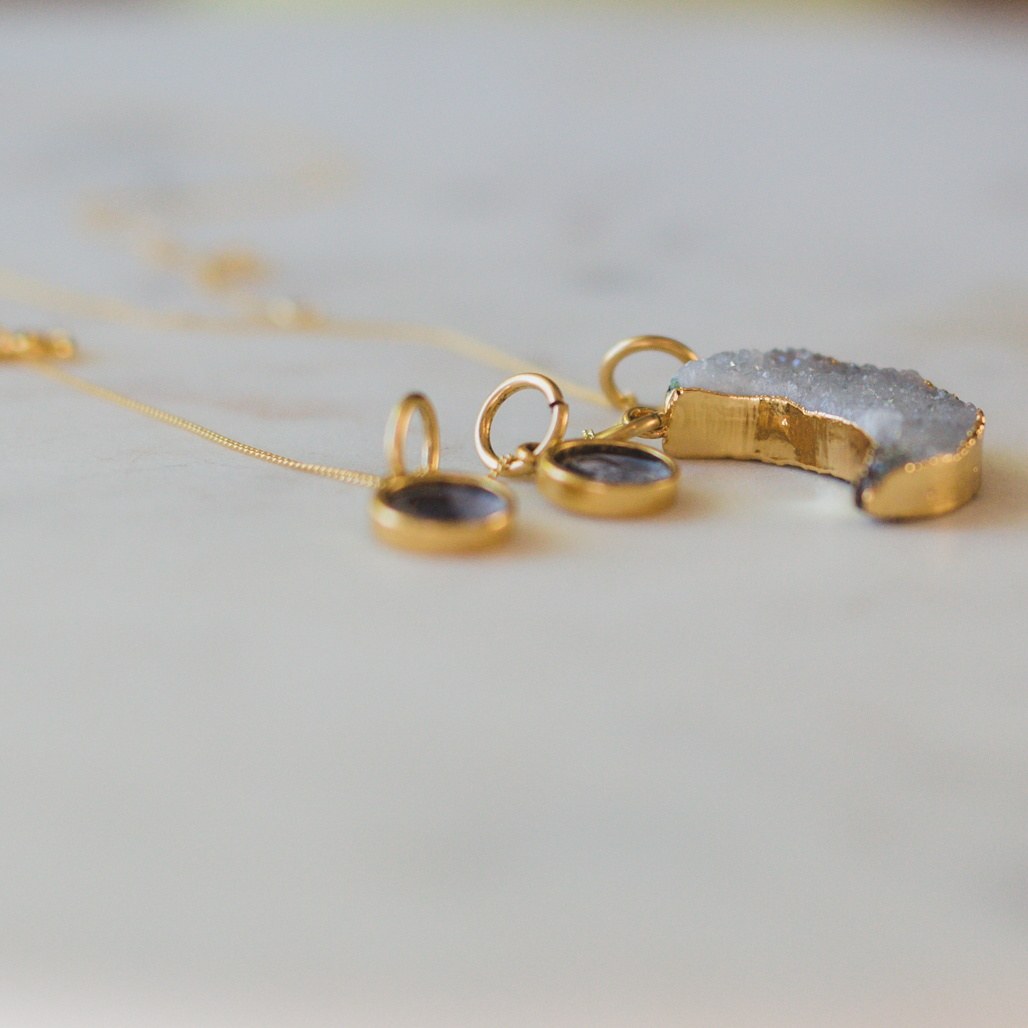 Whatever this piece of jewelry means to you, we are so honored to make it with you in mind.
Warmly,
Allyssa