I love gold. It's warm, goes well with my red hair, feels rich, is durable and lasts long, I love it. I think a lot of you love gold too, because gold lockets are ordered so often here.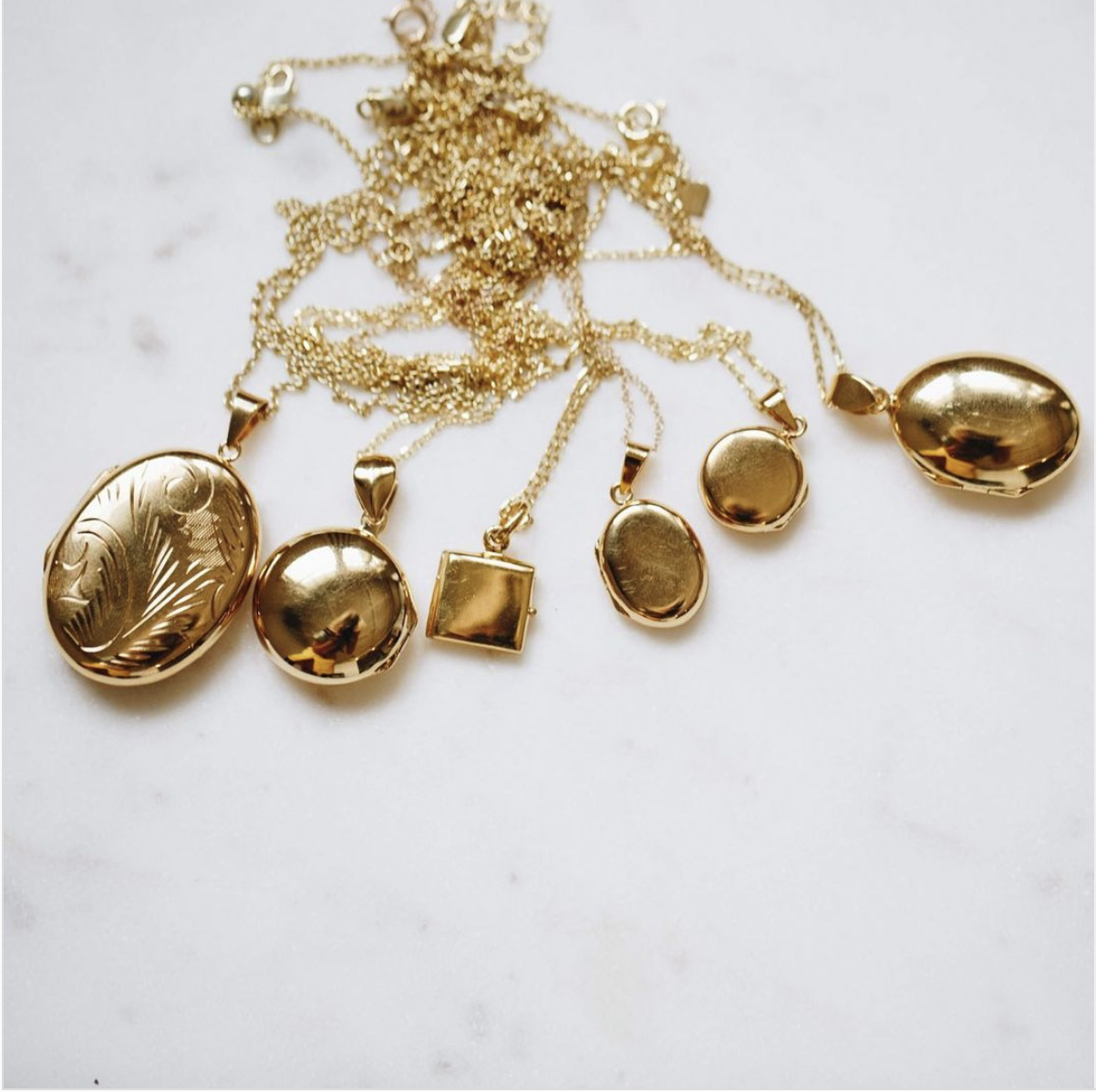 My gold lockets are plated in 3 microns of 14k gold, which is as thick as gold plating will generally get. It will not wear the same as solid gold, because solid gold will never wear.
But, 3 microns of gold on a high quality base metal like nickel-free sterling silver wears a lot better than most plating, and it's durability kind of depends on your lifestyle (e.g. if you plan to wear the locket everyday, if you plan to swim and shower in it, if you plan to clean it regularly, if you work in construction and are bedazzled while working, etc).
Some examples of how my gold lockets have worn for myself and others:
I tested The Gold Dorothy with six months of constant wear, never taking it off for a shower or sweaty workout or even in natural hot springs that had so many naturally occurring chemicals in it and after six months of SO MUCH wear and tear I'd estimate that about 60% of the gold plating has worn off.
I have lockets in my jewelry box at home that I don't wear everyday, some that I made about three years ago, some less, and the plating looks the same as the first day.
In the several years that I've offered gold lockets, and the hundreds upon hundreds upon hundreds that I've made and shipped out, I've had one person reach out to me with a concern about the plating. This was within a couple weeks of her receiving the locket, which means it was an issue on the manufacturing side, AKA an issue on my end, with how the plating was administered.
I follow many of you on social media and have seen your gold lockets shared in random photos and videos of you years after you ordered and they're as golden as they were the day you ordered.
I have many friends and neighbors and family who wear my gold lockets. They seem pretty darn golden months and years after they received their locket.
The plating I use is thick. It cannot get any thicker. It's made of 14k gold and set onto the highest quality .925 sterling silver as a base metal. All lockets are nickel-free.
For reference, the average piece of gold-plated jewelry would have gold measured at 0.5 to 1.0 micron of gold. Our lockets are 3-6x thicker than that.
So what's the best way to care for your gold locket?
Avoid getting your locket wet. If your locket gets wet a couple times it'll be juuuuuust fine. I literally wore The Gold Dorothy in the shower every single day, sweated into it, swam with it in hot springs in the mountains, and it was still intact. BUT the locket showed a lot more wear than had I taken it off to keep it loved and cared for during those water experiences.
Clean your locket with your polishing cloth. It comes with every locket, and is specifically made for polishing fine jewelry.
Wear it! Sounds weird, right? But your body's natural oils help keep the silver underneath, and the gold, well moisturized and from tarnishing. Enjoy that new piece of jewelry you have.
Do you still have questions? Ask them here at the bottom of the page.
Warmly,
Allyssa